Price

RM2,598.00

RM3,619.00

Brand
MEDELA
Availability
Out Of Stock
Shipping Fee
Description
Highlight
Compact, light and portable breast pump, easy to carry wherever you go
Built-in rechargeable battery so you can express anywhere - no need to search for an outlet
USB port for powering up on the go*
Connects to free MyMedela app – download and register to track pumping progress
Medela PersonalFit Flex™ breast shields for your comfort and increased milk flow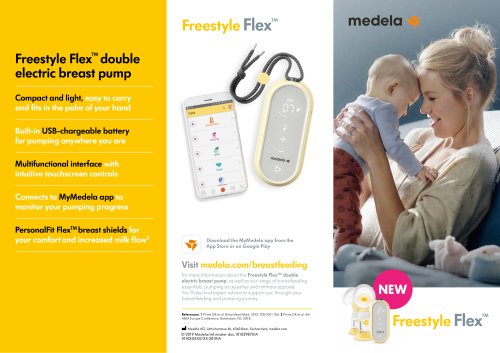 Medela Freestyle Flex™ 2-Phase Double Electric Breast Pump
Freestyle Flex™ is an electric breast pump designed to fit into your life: its light, compact design and USB-chargeable battery give you the flexibility to express wherever and whenever you like, with no compromise on pumping performance.
Compact, light and portable breast pump, easy to carry wherever you go
Built-in rechargeable battery so you can express anywhere - no need to search for an outlet
USB port for powering up on the go*
Connects to free MyMedela app – download and register to track pumping progress
Medela PersonalFit Flex™ breast shields for your comfort and increased milk flow
A double electric breast pump that fits in your palm
Weighing less than 300 g (10 oz), Freestyle Flex™ is small enough to fit into your palm, pocket or bag, making it easy to carry anywhere – around home, to work, to the gym, or when out with friends.
Pump wherever you are, even if no power outlet available
Freestyle Flex™ has a built-in rechargeable battery that lasts for up to eight double-pumping sessions from a full charge, so you don't have to plug into the mains while expressing. And if you need to recharge your electric breast pump on the move, Freestyle Flex™ has a USB port*.
Pairs with app for extra pumping and breastfeeding support
You can connect your Freestyle Flex™ with the MyMedela app on your smartphone – just follow a few simple steps and you're ready to time pumping sessions, track the settings you've used, and record how much breast milk you've expressed. For your convenience, the app also notifies you when the battery is running low.
Intuitive interface with touchscreen controls
The electric breast pump's illuminated digital control panel allows you to start or pause pumping, switch expression mode, and adjust vacuum levels. You can also activate a Delay start function via the panel – this feature gives you ten seconds before Freestyle Flex™ starts, particularly useful if double pumping, as it leaves your hands free to put breast shields in place without rushing.
Comfortable, efficient expression
Freestyle Flex™ comes complete with Medela PersonalFit Flex™ breast shields for added comfort and improved milk flow – tested with mums.
Components
1 x Freestyle Flex™ double electric breast pump
2 x Medela PersonalFit Flex™ breast shield size 21 mm
2 x Medela PersonalFit Flex™ breast shield size 24 mm
2 x Medela PersonalFit Flex™ connector
1 x tubing
4 x 150 ml breast milk bottle
4 x lid
2 x bottle stand
1 x power adaptor with USB cable
1 x carry bag
1 x cooler with cooler element
uPang is the First UV Waterless Sterilizer in the World, the best selling sterilizer in Korea & Winner of 4 consecutive Korea Customer Preference 1st Brand Award. uPang UV Sterilizer is designed and made in Korea.
As we know that all babies love to munch and put things like teethers, hand phones, remotes, toys, plastic bottles into their mouth. However, not all the things can be sterilised with boiling water or using conventional steam baby sterilizer. With our new product Upang, you can now sterilize everything including toothbrushes, gadgets, cutleries, make up tools, toys, anything you want to clean and sterilize with just one button. uPang eliminates 99.9% of harmful germs and bacteria such as Escherichia Coli, Staphylococcus Aureus, Salmonella Typhimurium, Pseudomonas Aeruginosa and so on.
Unlike the conventional steam sterilizer or hot water, infrared bulbs dry at low temperatures below 40 degrees, so we can protect our baby from the hazardous substances that occur when boiling or steaming with high temperatures. Upang is the only UV sterilizer fully tested, registered as medical device product and certified by the Food and Drug Administration (FDA of United States – Medical Device No. 3007914006) and six other health organisations of the world.
uPang helps you save time as one cycle can fit up to 16 bottles. Power needed is only 35 Watts per month for 3 times cycle per day for 30 days. Meanwhile, conventional steam sterilizer typically runs on 500 to 1500 Watts of electricity which in the long run translates to significant savings for mothers using uPang.
Reviews (0)
view all
back
What's in the box
Medela Freestyle Flex Double Electric Breast Pump + uPang UV Sterilizer Pink